With the growth of Instagram many have looked at the best web client for ways to see the photos without loading their application on a mobile device after creating an account.  Instagram just answered with their own web profiles but there are other choices to investigate including ink361, Statigram, the Photo Flow and Webstigram.  All of the sites use oAuth from Instagram to give access so creating new accounts on these websites is not required.  Just remember you are allowing an external application access to your Instagram photos private or not.  Here is a breakdown and my opinions for the top 5 web clients for Instagram
Ink361
I ran across Ink361 from a tweet months ago and watched them rework it into the current interface.  A nice grid that allows you to hover and see what the uploader commented and then click through for your own commenting and more. A simple clean interface that they have added some other features to.
You can navigate and work with your own Photos in one tab. I would like to see a mass delete option here as well.  Being able to select multiple photos and add tags or even delete them would be great. But the ability to play your own or who you follow as a slideshow is awesome.  You can also use a slider to zoom in and out on the grid of your own and followed photos making viewing easier.
The Likes menu option shows only photos of those you follow with likes and the number they have accumulated.  It makes popular photos from your friends easier to find.  I like this sorting ability outside the option of just viewing Public photos with the globe icon. They segregate Popular photos into their own tab.
I had never seen the Albums feature in the mobile client and was shocked to see it here.  I could view albums, create my own and like an album.  A brilliant idea for collecting images from accounts.  You can even search for albums by tag and then share ones you create or find via a bunch of social networks! I think this is a killer feature.
Ink361 also has a switch of day and night mode which turns the background black or light grey depending on your choice.  A nice touch.
Ink361 is also the only site that had a huge (or any) choices for emoji when making comments.  I found this interesting as I see more and more of them in comments across photos.
Statigram
Statigr.am is a leader in web access to Instagram with their grid format, statistics, comment tracking (not just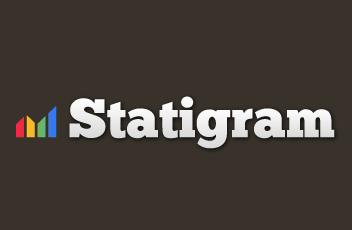 participating) and even their own contests. You can view the main page with the same grid format as Ink361, just with less photos on the page at once.  I like Ink361 for this part better.  You can click to make the photos in a list  much like the Instagram mobile clients but it uses the additional screen real estate for showing the comments and likes beside them. Very helpful.
Other options under the Viewer tab are:
My photos – you can show in grid, list, slideshow, comments and likes.  A cool feature is also the ability
Print – a whole bunch of options like phone cases, magnets, albums, calendars and more.  It's how they monetize the site.
My likes – self explanatory right?
My followers – a list of users showing most recently followed you first.
My followings – here you can create groups to sort people in.  This is great for the viewer page to quickly see photos from family or whatever sorting you desire removing everything else.  Imagine Circles on Google+ for this idea.  The stream is there but it quickly breaks it down into sections.
Populars
The Statistics tab is quite cool.  Besides the number of photos you have, which is also shown above on Viewer you get a count for the number of likes received, comments received and a small graph showing the trend. You can send this summary to you email with a click.  Next is a section on the last seven days showing growth in followers, lost followers (insert sad face) and overall growth/loss.  Lastly is a scoring section about what percent of your photos get likes/love, comments and how much of your comments or likes if from those that do not follow you (maybe they found you via a hashtag or some search).
You can expand the statistics even more with some left side menus for rolling months, content, engagement, optimization and community. This is a great resource if you want stats.  yet no one can explain why they are important to anyone since Instagram has no monetization abilities.  There is some awesome charts on how many you post a month, what day of the week gets more photos posted, what filters you use most and tags.  This is cool stuff to see. I am happy to say I use no filter more than anything, post more on Saturday and around 7-8pm.
Optimization shows when your followers interact most with your pictures.  It lets you know when the best time to post might be.  I found this interesting as mine fell on Thurs-Sat at 10am and 6-8pm. But most of my own photos get interaction within 6 hours.  It dies off quickly after that. What filters get the most attention is shown along with the hottest tags you use.
Snapshots are widgets email reports that are updated daily showing tons of stats about your Instagram activity.  A cool way to get information about your posts. Maybe you want to know your top photos in a widget? They have it. Most commented photos? They have it.  When the snapshot updates your email can be automatically sent.
Management allows you to see comments, mark them as read and even delete.  I appreciated one place to work across multiple comments.  The tab lights up with a number of unread comments fort you to view.  There is also a Private Message area that I think only works with other Statigr.am users.
Promote gives you a public URL (much like the new Instagram public profiles) with buttons and RSS feed links you can use for your photos. You can make a Facebook fanpage tab and even use your own photos to update your Facebook cover photo. Keep in mind this cover photo updates automatically and Facebook only allows one cover change per hour currently.
Contests are links to other sites looking for your Instagram photos for entry. Some are based for one country only so explore those that fit where you take pictures or of what topic. All have a special hashtag or account to tag in your photo.
Pinstagram
Pinstagram, formerly Pictacular, is a clean interface that focuses more on discovery to me than working with your streams. The Home icon on the very upper left becomes a sidebar on the left with tons of categories for discovery and a grid on the right with recent pictures from those you follow.  They attempt a magazine look making some bigger than others for no reason I can tell.  I like the simple grid look and found an easy button on the top to change it.  So I thought.  I still got a grid that was all off balance in rows.  They also had a one time popup to connect your Facebook and Twitter accounts. Each picture can be liked, pinned to pinterest, shared via Facebook and even Twitter. You can also do the default like and comment.
The name of who posted it is listed first and how long ago with a very tiny refresh arrow hidden away on the upper right.  I say this because the main menu that draws your eye is on the left.  Why would there not be one there also?  Ah ha! I was able to open and close the left sidebar with an icon that looked like a list.  Every other site uses it to show your photos in a list but this one.  Strange.  Why not an arrow button that changes each direction to show the open/close for the sidebar? I did find a search bar at the top left with a toggle for tags or people. With no hover help an ordinary user would not have known what these were.
The star icon on the upper right brings up Popular into a grid in the middle. Once again the left sidebar stasys with you. The most recent highly liked photos are shown first.
Nearby should bring up a local map after prompting you to allow access to your location.  After saying yes the screen refreshed with not a map, but a list of photos. I do not know the range or where these are. I also could not click a username to see more of their photos!  Fail right there.
My Photos is just what is expected but it had no management on the main screen for comments. I also could not delete comments at all, just add more.
My Likes was just that.  What I liked.  Ok moving on.
Notifications showed a number and I clicked.  A dropdown started to appear but never did anything else.  I am not sure what the notices were.
Settings allowed me to logout or connect to Facebook and Twitter.
The left sidebar is exploratory as I originally found under a Discover banner.  From featured user ( no idea how they decide), brands, celebrities, food, fashion, sports and more.  You could suggest a channel.  I presume they are hand curating these as they go along. You can save hasthtags, just not at the top where you search.
And just when I thought I was free of the site a pop up suddenly showed asking me to invite my friends to Pinstagram. The most recent that followed me were at the top with a blue invite button.  It would then leave a message on their most recent photo as me to come to this service.
Webstagram
First off the homepage for Webstagram was far too freaking confusing and busy. The homepage had links to the web interface, blog widgets, DM.stagram, forum.stagram, a repost ability, feeds, search
tools and even statistics.  Whew. Lets break them down.
Blog Widgets were cool on this site.  It includes a follow me button and a customizable widget for showing photos.  As long as the photos are public you can select size, transparency for framing, colors of background and more.  Very easy to do.
DM.stagram is like the iOS app that allows a direct messaging service to users on Instagram as long as you follow each other.  This helps when you may not be connected on Twitter or Facebook.
Report allows you to grab an image and it adds the username from where you took it to make easy sharing with credit. It is a button that shows on each photo while you are logged in and it does all the work.  NO need for messy mobile screen captures.
RSS grabs the rss feed from the users page to add to your favorite RSS reader.  Another way to view photos.
Search is a simple bar like the other sites that allows for lookups by hastag and username. It is best for one word type searching they point out.  A new beta Search.stagram is deeper and includes the ability to search across filter types on photos, captions and even multiple words.
Statistics opens showing the top filters applied to the most popular photos.  Surprisingly Normal was the winner with Earlybird in second. The top 100 tags was listed with love being the largest by far.  As in they love something, not someone mainly. Further down was Most Followed (Kim Kardashian was second with 5 million), Most Following and nothing else! No stats about my items like Statigram above.
Viewing Feed shows who I follow and could be shown in grid or list format. The list put the comments to the right for each picture.  The grid was clean looking with a light background. I could like each picture and see how long ago it posted with what filter! That was a nice touch. I could see the number of likes and comments.  No other sorting was available. Clicking on a picture opened it up to show who liked it, comments and allow my own (with emojis), post to Facebook (ack I do not remember turning that on for here it just saw it) and share across networks including a direct URL link.
When viewing my own photos I was able to remove comments with a simple click. I could share and pin my photos across numerous networks and leave comments. The bottom of every page was ads which is their monetization I guess.
There was a Photo of the Day that is run from the tag with the same name (no spaces) and is chosen by one of their judges. I scrolled back and there were some definitely cool photos.
I did not like how the top menu items were blended in too much with the ads and sharing for the site itself.  Meaning I could plainly see how to tell people about Webstagram and the large ad, but the menu controls were too much like the background until hovered over.
Photo Flow
Photo Flow was written in June 2012  by Kevin Harvell Darien Sandifer and contains three main sections that comprise PhotoFlow.
Home
View Your Instagram Feed
Instaglobe
Overall this is an ok site compared with some of the other services and does have one feature, Instaglobe, that none of the others but Pinstagram has.  With Instaglobe it pulls your current geographic location (if you say yes) and then shows public and photos those your follow that are around you.  Very cool to get a view of what's going on at events and find new friends.
Home is the current popular photos with a search function at the top.  It is in a grid format for east browsing.
The Instagram Feed area is your feed and shows the date and time of the photo.  It took me a second to find who made the photo until I saw an small area on the right that blended in with comments. There is only one view option and that is a list format. No grid link was obvious if it exists.  You could pull up the profile and even unfollow from each picture.
For a full writeup by Kevin describing all the features visit this blog entry on St Louis Tech Talk. The other tabs were just information about the site or to contact the developer.
(Honorable Mention) Instagram Web Profiles
Brand new just this week, Instagram finally launched web profiles. It looks very much like Facebook and uses your username as part of the URL as you see mine here. Interestingly they have not built a search or directory function from the homepage.  Also with the ability and quickness that people change their username on here I wonder how that will affect the public URL?
Presuming you make your profile public, the top of the profile changes the images to reflect current pictures and there is your avatar.  It looks amazingly similar to Facebook as my partner in crime from TheSocialGeeks Corvida pointed out via Twitter. You will see the number of photos, the number following and the number of followers.  Nothing more.
Hovering over a picture shows the number of likes and comments. Clicking through to the picture offers an interface to comment and like the picture. As the owner I can also delete comments from my photos with a  tiny X that shows when you hover over a comment. However they put no X in the corner or way to close the image! You have to hit escape or click around it to get out and back to the grid.
You can edit your profile as with the above interfaces.  Nothing too exciting there. But I cannot click who I follow to quickly jump to their web profile.   Basically the other sites go way beyond the capabilities here.
Conclusion
While there are numerous sites offering to print photos, make calendars and such, this article was driving at the best web interface for working with Instagram. I could not get into Instagrid as they are redesigning for version 2 but it looked interesting.  You can also check out Extragram (it was sent in after I published and is clean but lacked some features)
The winner for my usage is either Ink361 or Statigr.am.
With the purchase of Instagram by Facebook, I wrote this article on how they are being closely aligned and I see a total merger coming soon. No matter what Facebook has recently said.
Oh yeah and follow me of course on Instagram