VivaStream is an app for iOS, Android and BlackBerry that is supposed to help connect you to people before, during and after events and conferences. I have seen attempts like this before with Lanyrd, Plancast and some smaller launches. I also predict that VivaStream will fall to the same fate after testing it.
Vivastream™ tells you Who to Know™ based on your interests, profile, and skills, and helps you connect and interact with other like- minded individuals before, during and after the event.
I walked through the setup of VivaStream in this picture slideshow and was not impressed with this application even with the decent mobile look. After looking at the limited amount of downloads on Android and iOS and the low reviews it received, I am not surprised.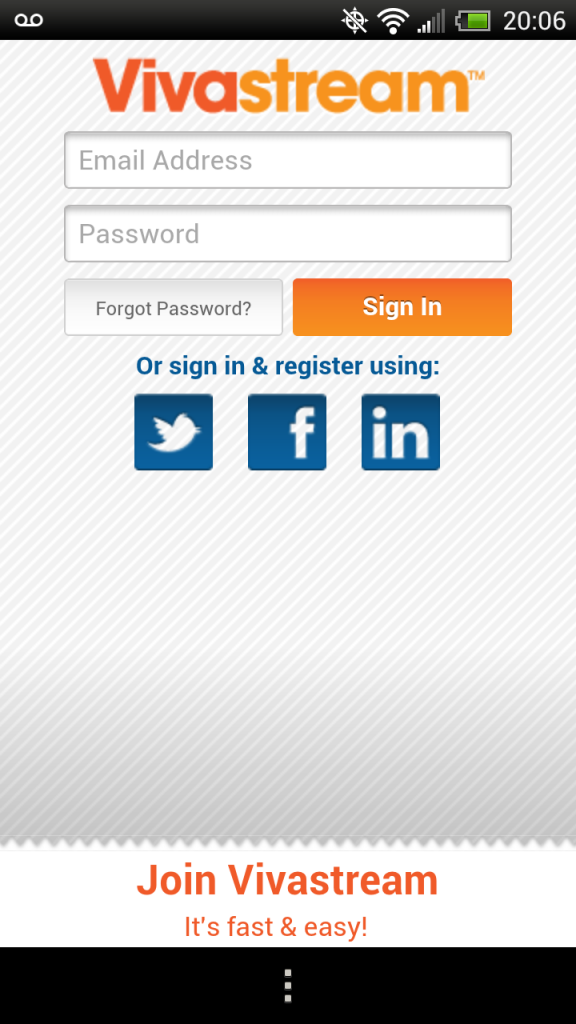 The first image above shows the initial registration screen using Android.  You can create an account directly with VivaStream or authenticate with Twitter, Facebook and LinkedIn. I chose to create my own account as shown in the second image and then link social accounts later if I found value.
I did receive a verification email as expected. Once inside the application you are able to edit your profile. This was very basic. I could add my first name, last name, position and company. However adding a picture via the mobile interface was not possible on Android. I did find it via the web interface (more on that later).

The list of events that had passed and upcoming was quite short. Searches did not give me anything outside of the ones listed. Without joining any events you are able to see only an inbox and your profile as shown in this image.  I entered into a few events and some prompted for an access code which I liked (see the 6th image).
However after entering into one of the events it now shows every time I enter the mobile or the web interface. You can view sessions, search attendees that have loaded the application and there is some form of stream.
Searching attendees (shown in image 11) allows you to look by their Who To Know capability, speakers or those that specified a Twitter or Linked profile. I found the number of attendees that had loaded the application very lacking for the events I could enter into.
So I dug into reading how VivaStream was supposed to work and couldn't think of a good description and was able to find this description from their own website:
How Vivastream™ works

Before, during and after the event, Vivastream's social activity engine continuously monitors conversations in real-time, ensuring that trending topics matching your interests are always front-and-center on your radar. As new people join Vivastream, they are instantly added to the pool of attendees. If their expertise and interests matches what you've said you need to know, they're automatically added to your personal Who to Know™ list. The more qualified they are to help you, the higher they rank on your list.
Even inside an event and the streams I could not see a flow or organization.  I could sort. Apparently selecting to attend sessions helps find a list of others that will attend and begin to map them as those you should know.
The web interface offered a bit more profile management with adding a profile picture, gender, birthday (why?), city, and one job. You could connect accounts at this point to LinkedIn, Twitter and Facebook. I could not manually update my interests or activities. I presume activities updates as I attend events and sessions.
I found some previous attendees at events and see that their interest were built and some were starred that they could help.  This appears to be a way to show expertise in content or a skill to be shared. I would hope this is drawn from your own entries, LinkedIn endorsements and sessions you present.
Now in saying all of this a real downfall of the entire VivaStream site and system was the lack of any help files of any kind.  There was nothing but an about screen. I did find the VivaStream Terms of Service which also contradicted themselves.
2. Content

"Content" as used herein, means any information, text, graphics, or other materials uploaded, downloaded or appearing on the Service. You retain ownership of all Content you submit, post, display, or otherwise make available on the Service.
So in reading this I own the content I upload.  However in the following they claim to be able to do what they want with it, including modify.
5. Your License to Vivastream

By submitting, posting or displaying your Content on or through the Service, you grant us a worldwide, non-exclusive, royalty-free license (with the right to sublicense) to use, copy, reproduce, process, adapt, modify, publish, transmit, display and distribute such Content in any and all media or distribution methods (now known or later developed).

You agree that this license includes the right for other users of the Service to modify your Content, and for Vivastream to make your Content available to other companies, organizations or individuals who partner with Vivastream for the syndication, broadcast, distribution or publication of such Content on other media and services, subject to our terms and conditions for such Content use with such third parties. Such additional uses by Vivastream or others may be made with no compensation paid to you with respect to the Content that you submit, post, transmit or otherwise make available through the Service.
In reading this I would be concerned with uploading content to the site. They did link to a privacy policy inside the Terms of Service. It seems that conferences may use your registration data to send to VivaStream which I imagine could include your first name, last name, email address, job title and company. This would help them build your profile on this site.
So where does that leave me in using this site? As many of the comments say, they did not find value. In theory it would take more people using the system to have value. However reading reviews on iOS and Android show that users were unhappy with the effectiveness of the app to date.  Add in the lack of updates on the Android version since mid September coupled with missing mobile features like simply adding your profile picture and I am not a fan yet of the service.
Have any of my readers had experience with VivaStream? What mobile platform did you load? Did you use the web interface? Share your thoughts so we can all evaluate it better.